SKU: SD-25590-2-2-1-1
Jewish Chai Necklace Gold filled 18k, Bar/ Bat Mitzvah Gift
$61
Sacred Chai symbol. A beautiful and meaningful piece to add to your collection or gift to a loved one. the perfect gift for a Bat Mitzvah. Wears it close to your heart as a symbol of hope, protection, and spiritual guidance.
Necklace Size Guide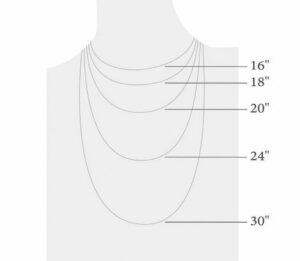 | | |
| --- | --- |
| US | EU |
| 16 Inches | 40 cm |
| 18 Inches | 45 cm |
| 20 Inches | 50 cm |
| | |
| --- | --- |
| Chain material | |
| Chain type | |
| Color | |
| Pendant height | |
| Pendant material | |
| Pendant width | |
| Style | |
| Chain length | 16.5 Inches, 18 Inches |
18k Gold filled Chai Necklace Jewish Pendant. Chai is an important symbol in the Jewish religion, The word is made up of two Alphabet letters "Chet" and "Yud" forming the word "Chai" which means "life" or "living".
In Numerology the two letters of Chai add up to 18. For this reason, 18 is a spiritual number in Judaism
It takes 3-4 working days to make the item;
Our free worldwide shipping gets the item to you in 14-20 working days;
FedEx or UPS express delivery costs $15 and takes 3–5 working days;
Express delivery anywhere is free for orders of $200 and above.
Refunds and returns
Refunds and returns are accepted for 14 days from the package's arrival, minus the shipping costs. For refunds you need to send the item to us with a tracking number. Once we have received the item and checked its condition, we will refund you the cost without shipping. Feel free to contact our customer support at this link with any questions.
Packaging
All our products are sold in gift packaging, nice to receive and gratifying to give. You can also write the text of congratulations, and we will write it on our brand-name postcard.
Crafting
We make our items by hand from sterling silver or 14K gold filled. To fill with color, we use a unique art clay, which is heat treated using a special technology. The item is covered with see-through enamel for gloss and protection against oxidation and discoloration.
Warranties and use tips
Our products come with a long-term warranty if properly used.
We recommend avoiding contact with chemical agents, chlorinated pool water and sea salts.